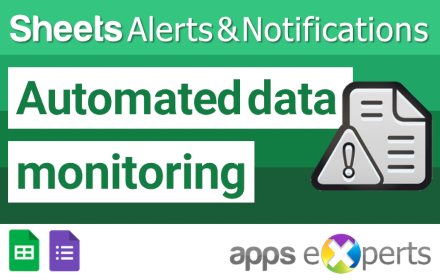 Automated KPI monitoring in Google Sheets
The Google Sheets Alerts & Notifications add-on is the perfect KPI monitoring and notification tool for Google Sheets data in your company! Monitor the key figures managed in Google Sheets: Receive automatic notification of limit values, deadlines or minimum stocks by e-mail or chat. Copy, move or delete relevant table data automatically according to your filter criteria. Reduce manual effort and optimize your processes in Google Sheets by using the Alerts & Notifications add-on!
Buy a business package now and save up to 70%!
With the free version of the Google Sheets Alerts & Notifications add-on you can only process 25 data records at once. By upgrading to the unlimited business packages, you benefit from the full range of features and save up to 70% on licensing fees! For companies using Google Workspace the Alerts & Notifications add-on is available in different Business Packages. Based on the amount of users to licence, we are providing three different business packages: Start-up, SMB and Enterprise. The features of the add-on are identical in all three business packages. The business packages are perfect e.g. for full KPI monitoring of a whole company.
Features of the Google Sheets Alerts & Notifications add-on business packages:
BUSINESS: Discounted license packages from 5 users
BUSINESS: Licensing at domain level

BUSINESS:

Automated notifications according to individual filter criteria for unlimited number of data records*
BUSINESS: Automatic monitoring of table data through flexible job control, which is started periodically or after a new Google Forms response
Notification via e-mail, Google Chat or a Slack channel, dynamic content and links possible
Notification by adding tasks in Google Task, also tasks with corresponding sub-tasks
Formatting of the processed lines or inserting status information in any table column or note
BUSINESS: Deleting, changing, copying or moving the processed line content in further spreadsheets or transmission via web service
BUSINESS: Processing logs

, also via e-mail or in a Google Sheet

BUSINESS: Add-on can be used in an unlimited number of Google Sheets and spreadsheets, even in shared drives

BUSINESS:

Priority business support via e-mail
Choose the right business package for your company now from just 15,00 € per user/year:
Start-up
SMB
Enterprise
5 to 25 users
50 to 500 users
starting from 500 users
40 € per user/year
30 € per user/year
15 € per user/year
---
Questions? More information?
If you have any questions feel free to contact us! Payment is made over our partner Digistore24. Directly after your purchase you will receive an order confirmation and more information about the add-on via e-mail.
*Notes:
– Quotas & Limits of your Google Workspace Account and of Google Apps Script are applied.
– All prices are exclusive of value added tax (VAT). If you decide to cancel your order you must do so within 60 days of the order confirmation date.
– The term of contract is one year and is extended automatically for another year.