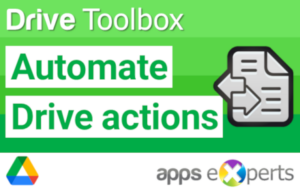 Automate your Google Drive processes and save time
The Google Drive Management Tool "Drive Toolbox" is the ideal tool for your company's employees to automate their Google Drive actions. Copy, move, delete or mark Google Drive files automatically via job control according to individual filter criteria. Rename files collectively, withdraw shares or even automatically transfer the ownership of files within your Google Workspace domain! The Drive Toolbox add-on also works for company-wide shared drives in Google Drive. By using the add-on, you'll reduce manual work and optimize your processes in Google Drive!
Buy a business package now and save up to 70%!
With the basic version of the Google Drive Toolbox add-on, you can only process 30 elements per action. By upgrading to the unlimited business packages, you benefit from the full range of features! For companies using Google Workspace the Google Drive Toolobox add-on is available in different business packages. Based on the amount of users to licence, we are providing three different business packages: Start-up, SMB and Enterprise. The features of the add-on are identical in all three business packages!
Features of the Google Drive Toolbox add-on business packages:
BUSINESS: Discounted license packages from 5 users*
BUSINESS: Licensing at domain level
BUSINESS: Automated processing of any number of Drive elements using filter cirteria*
Rename, mark, copy, move, delete and share multiple Drive files at the same time
BUSINESS: Processing of files including folders / subfolders in my Drive and shared Drives
BUSINESS: Automatic processing by flexible job control, which can be started periodically
BUSINESS:

Transfer of ownership rights

within your Google Workspace Domain
BUSINESS: Bundling of files in ZIP format

for practical export

BUSINESS: Sending links and texts of Google Drive elements via e-mail, Google Chat or Slack
Tabular form List of processed files and export of the listed drive elements via Google Sheets

BUSINESS:

Processing logs can be sent via e-mail or created in Google Sheets
BUSINESS: Priority business support via e-mail
Choose the right business package for your company now from just 15,00 € per user/year:
| | | |
| --- | --- | --- |
| Start-up | SMB | Enterprise |
| 5 to 25 users | 50 to 500 users | starting from 500 users |
| 40 € per user/year | 30 € per user/year | 15 € per user/year |
| | | |
---
Questions? More information?
If you have any questions feel free to contact us! Payment is made over our partner Digistore24. Directly after your purchase you will receive an order confirmation and more information about the add-on via e-mail.
*Notes:
– Quotas & Limits of your Google Workspace Account and of Google Apps Script are applied.
– All prices are exclusive of value added tax (VAT). If you decide to cancel your order you must do so within 60 days of the order confirmation date.
– The term of contract is one year and is extended automatically for another year.