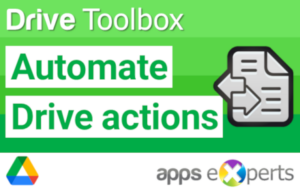 The Google Drive Toolbox add-on by apps experts offers you a tool to automate your Google Drive processes: copy, move, delete or mark Google Drive files according to your filter criteria. Rename files within a folder or convert them to another office format. Share files or automatically revoke shares. Automate your Google Drive processes with the Google Drive Toolbox add-on easily!

Automate your Google Drive actions with the Toolbox add-on!
With the Drive Toolbox add-on you can automate a wide variety of processes in your Google Drive. Determine which drive elements from a shared drive storage or your personal storage should be processed and limit the files or folders to be processed using our filter function. In this way you can flexibly determine which elements should be processed by the Drive Toolbox. Then determine which of the various actions will be performed. Regularly copy template documents to a new folder, rename files or folders. Withdraw the approval of documents regularly or approve the selected documents for one or more recipients. The Drive Toolbox also supports the conversion of Google Docs into MS Office format or into PDF format. Would you like to be informed about changes in a folder? Then a log with recently changed files will be sent to you via e-mail or Google Chat!  
Features of the Google Drive Toolbox add-on:
Automated processing of any drive elements using filter criteria
Automatic processing of the selected drive files and folders through flexible job control, which is started periodically
Rename, mark, copy, convert, move, delete any element of your drive or shared drives
Sending links and texts of Google Drive elements via e-mail, Google Chat or Slack
Tabular listing of the processed files and export of the listed Drive elements via Google Sheets
Processing logs can also be sent via e-mail or created in Google Sheets
Product versions overview of Google Drive Toolbox Add-on:
Version/Features

Free

Plus

Business

Target group:

Private

Private, Freelancer

Start-up, SMB, Enterprise

Type of Google account

Private

Private/Google Workspace

Google Workspace

Number of users

✓ 1

✓ 1

✓ packages

Selection by folder structure

✓ Folder

✓ Folder including subfolders

✓ Folder including subfolders

Selection via search

✓ 30 elements

✓ unlimited*

✓ unlimited*

Automatic job processing

–

✓ periodically

✓ periodically

Executable actions

Free basic actions:

✓ E-mail

✓ rename

✓ delete

✓ copy/move

✓ sharing (user)

Basic actions plus:

✓ sharing (link)

✓ convert to Google Docs

✓ convert to MS Office

✓ export as ZIP

Plus-Version actions plus:

✓ transfer ownership

✓ Google Chat

✓ Slack channels

✓ Web service

Connection to third-party systems

–

–

✓

Integration Shared Drives

–

–

✓

Processing log

✓ E-mail

✓ E-mail

✓ Google Sheets

✓ E-mail

✓ Google Sheets

E-mail support

–

✓

✓

Manual

✓

✓

✓

 

License price**

free

50 € User/Year
( >> more )

starting at 15 € User/Year
( >> more )
* Quotas & Limits of your Google/Google Workspace Account and of Google Apps Script are applied.
** All prices excl. tax. The term of contract is one year and is extended automatically. Annual payment four weeks before contract term is ending. Period of notice is 4 weeks before contract termination.
More information about the Google Drive Toolbox Add-on:
>> Installation of Free-Version at Google Workspace Marketplace
>> General help and manual
If you have any questions feel free to contact us!