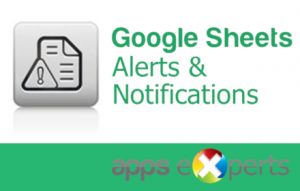 The Google Sheets Alerts & Notifications Add-on by apps experts keeps always an eye on your Google Sheets data. Monitor thresholds and KPIs automatically. Receive automatic notifications of individual limit values, key figures or deadlines via e-mail, Google Chat or directly as a task in Google Tasks.
Easy notifications with the Alerts & Notifications add-on!
Determine individually which criteria you would like to be notified about. Using our filter function, you can flexibly define the conditions under which you would like to be notified. For example, the add-on checks the table information daily according to your specifications. If a specified filter criterion occurs, you will be notified by e-mail or Google Chat. The message text can be designed individually and can also contain dynamic contents of the relevant table line. Alternatively, the add-on can also create a Google task directly or transfer the data to another service or a database via web service for further processing. If necessary, you can also highlight the processed table information in color or enter an individual status text using a note or any table column.
Key features of the Alerts & Notifications Add-on:
Automated notification by setting filter criteria
Automatic monitoring of table data through flexible job control, which is started periodically or after a new Google form response
Notification via e-mail, Google chat or by adding a Google task dynamic content possible
Further processing of the relevant information via web service
Formatting of the processed line information or inserting status information in any table column or note
Deleting or copying or moving the processed line content to other worksheets
The add-on can be used in an unlimited number of Google Sheets and worksheets
Processing logs can also be sent via e-mail or Google Sheets are created
Product versions overview of Alerts & Notifications add-on:
Version/Features

Free

Plus

Business

Target group:

Private

Private, Freelancer

Start-up, SMB, Enterprise

Type of Google account

Private

Private/Google Workspace

Google Workspace

Number of users

✓ 1

✓ 1

✓ packages

Number of records per day/process

✓ 1000/100

✓ unlimited*

✓ unlimited*

Automatic job processing

✓ periodically

✓ periodically

✓ Google Forms

✓ periodically

✓ Google Forms

Executable actions

Free basic actions:

✓ E-mail

✓ Google Tasks

✓ change colour of Google Sheets cells

Free-Version actions plus:

✓ change content of cells

✓ move rows

✓ copy rows

✓ delete rows

Plus-Version actions plus:

✓ Google Chat

✓ Slack Channels

✓ Web service

Copy / format cells after the action

–

✓

✓

Connection to third-party systems

–

–

✓

Integration Shared Drives

–

–

✓

Processing log

✓ E-mail

✓ E-mail

✓ Google Sheets

✓ E-mail

✓ Google Sheets

E-mail support

–

✓

✓

Manual

✓

✓

✓

License price**

free

50 € User/Year
( >> more )

starting at 15 € user/year
( >> more )
* Quotas & Limits of your Google/Google Workspace Account and of Google Apps Script are applied.
** All prices excl. 19% tax. The term of contract is one year and is extended automatically. Annual payment four weeks before contract term is ending. Period of notice is 4 weeks before contract termination.
More information about Alerts & Notifications Add-on:
>> Installation of Free-Version at Google Workspace Marketplace
>> General help and manual
If you have any questions feel free to contact us!