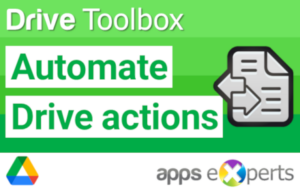 Automate your Google Drive actions!
The Google Drive Toolbox add-on automates various processes in your Google Drive. Carry out various actions, such as copying, moving, converting, marking or deleting files collectively. You can also use the add-on to automatically rename, share or revoke shares of files. Additionally you can convert Google Docs to MS Office or PDF format collectively. You can specify which files are processed by selecting a start folder in Google Drive or across folders using filter criteria. The processing can also be scheduled automatically via a periodic job control!
Install the plus version now and process any number of Drive elements!*
With the basic version of the Google Drive Toolbox add-on, you can only process 30 elements per action. By upgrading to the unlimited plus version, you benefit from the full range of functions! The plus version of the Google Drive Toolbox add-on is a single user license. As well as users with a private Google account and freelancers or employees of companies using Google Workspace can license the add-on via plus version. In case of any questions about licensing or about the add-on features please feel free to contact us.
Features of the plus version of the Google Drive Toolbox add-on:
PLUS: Automated processing of any number of Drive elements using filter cirteria*
Rename, mark, copy, move, delete and share multiple Drive files at the same time
PLUS: Processing of files including folders / subfolders in my Drive and shared Drives
PLUS: Automatic processing by flexible job control, which can be started periodically
PLUS: Collected conversion of Google Docs files into MS Office format and vice versa
Sending links and texts to Drive elements via e-mail
Tabular form list of processed files and export of the listed drive elements via Google Sheets
PLUS: Processing logs can be sent via e-mail or created in Google Sheets
PLUS: Priority business support via e-mail
Start now with the Google Drive Toolbox plus version for only 50.00 €/year!**


---
Do you need more than just one plus license?
Then find out more about our Google Drive Toolbox business packages: >> Start-up | >> SMB | >> Enterprise
Questions? More information?
If you have any questions feel free to contact us! Payment is made over our partner Digistore24. Directly after your purchase you will receive an order confirmation and more information about the add-on via e-mail.
*Notes:
– Quotas & Limits of your Google/Google Workspace Account and of Google Apps Script are applied.
– All prices are exclusive of value added tax (VAT). If you decide to cancel your order you must do so within 60 days of the order confirmation date.
– The term of contract is one year and is extended automatically for another year.