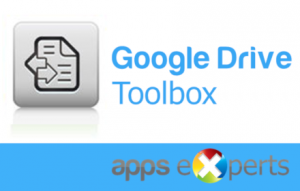 Google Drive Toolbox Add-on by apps experts inserts and updates values of Google Forms selection fields like multiple-choice, drop-down, checkbox or grid fields. Companies with Google Forms Dynamic Fields Add-on can reduce the effort of maintaining contents twice and automate their process of updating values of selection fields in forms. Based on miscellaneous Google Apps like Calendar, Sheets and Contacts and the possibility to fetch user attributes from G Suite user administration or consuming data of third party systems through web-services, you can keep your values of fields in Google Forms up to date. 
Business Packages of Google Forms Dynamic Fields Add-on
For companies using G Suite (former Google Apps for Work) the Google Forms Dynamic Fields Add-on is available in different Business Packages. Based on the amount of users to licence, we are providing three different Business Packages: Start-Up, SMB and Enterprise. The features of the Add-on are identical in all three business packages. In case of any questions please feel free to contact us.
Key features of Dynamic Fields Add-on:
Update of selection fields in Google Forms automatically.
A time based update job to update the relevant fields regularly.
Support of drop-down, checkbox, multiple-choice and grid question types.
Miscellaneous  Google Apps like Calendar, Sheets and Groups can be used as data source.
Data of third party systems can be connected via web-service and JDBC.
G Suite customers can insert user attributes like cost center and department.
The organizational structure of orgunits in G Suite can also be used.
You can use the Add-on in unlimited Google Forms.
E-Mail support and manual inclusive.
Pricing overview of Business Packages:
| | | |
| --- | --- | --- |
| Start-up | SMB | Enterprise |
| 5 – 25 User | 50 – 500 User | starting from 500 User |
| 40 € User/Year* | 30 € User/Year* | 15 € User/Year* |
| | | |
* All prices excl. 19% tax. The term of contract is one year and is extended automatically. Annual payment four weeks before contract term is ending.  Period of notice is 4 weeks before contract termination.
If you have any questions, please feel free to contact us.