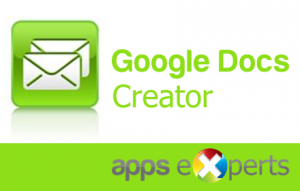 The Google Docs Creator add-on from apps experts features a document merge function for Google Docs! Create Google Docs templates as a Google Document and maintain individual personalized content, such as customer master data, price information and addresses in Google Sheets. Create marketing oder customer specific documents with indvidiual text, links and images.
Create documents easy with Google Docs Creator!
The Google Docs Creator add-on combines this information with the selected Google Docs template into individual documents, enabling you to create easy documents automatically in your drive storage in Google Docs or PDF format. Additionally, graphics such as a company logo or Google Sheets based charts can be automatically added to the automated documents. The add-on also allows the creation of all personalized letters within one Google Doc document, allowing easy printing of the generated letters. The generated documents can also be sent automatically by email.
Features of Google Docs Creator add-on:
Automate creation of Google documents in Google Docs or PDF format.
Use any custom document templates based on Google Docs to create letters.
Every content in your Google Sheet files can be used for merge into your documents.
Insert any texts and links to Google Drive documents or other URL.
Graphics stored in drive or referred via URL can be insert dynamically also.
Insert Google Sheet based charts in your documents also.
Store your automatical created documents in Drive and share them via link or email.

By using print functionality one document with all merged letters is created as easy print option.
Product versions overview of Google Docs Creator add-on:
Version/Features

Free

Plus

Business

Target group:

Private

Private, Freelancer

Start-up, SMB, Enterprise

Type of Google account

Private

Private/Google Workspace

Google Workspace

Number of users

✓ 1

✓ 1

✓ Packages

Number of documents/day

✓ 50

✓ 250/1500*

✓ 1500*

Number of processed rows

✓ max. 10 rows

✓ unlimited rows *

✓ unlimited rows *

File format

✓ Google Document

✓ Google Document/PDF

✓ Google Document/PDF

Print functionality

✓

✓

✓

Share docs within your company

–

✓

✓

Dynamic image/chart insertion >> more

–

✓

✓

Filter based on conditions

–

✓

✓

Mass processing

–

✓

✓

Send personalized emails

–

✓

✓

Email Support

–

✓

✓

Manual

✓

✓

✓

License price**

free

30 € User/Year
( >> more )

starting at 10 € User/Year
( >> more )
*
Quotas & Limits
of your Google Workspace Account and of Google Apps Script are applied.
** All prices excl. tax. The term of contract is one year and is extended automatically. Annual payment four weeks before contract term is ending.  Period of notice is 4 weeks before contract termination.
More information about Google Docs Creator add-on:
If you have any questions feel free to contact us.